Melexis demonstrates inspired automotive engineering at CAR-ELE Japan 2017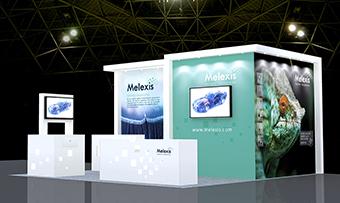 Tessenderlo, Belgium, 9 January 2017 - Melexis will once again be exhibiting at CAR-ELE Tokyo, Japan from 18-20 January 2017 (booth E39-40). Now being staged for the 9th time, this event is recognized globally as key to continued technological innovation in the automotive industry. This year's attendees will have the opportunity to access to the latest innovations from Melexis – in relation to in-vehicle networking, 3D imaging and temperature sensing – through a series of interactive demos.

The LIN RGB demo illustrates the major advances Melexis is making in the personalization of vehicles' interior lighting, based on the brand new MLX81115 dual-channel driver IC. With built-in 16-bit microcontroller and 32 kBytes of Flash memory, this IC enables the control of multiple LEDs through the LIN bus, with color mixing and color calibration functions being taken care of. It can also compensate for temperature changes and alteration to LED output characteristics over their lifetime.

The optical Time-Of-Flight (TOF) 3D imaging demo showcases Melexis' next generation of TOF semiconductor technology. This provides a streamlined TOF sensing solution that is unique in being fully optimized for automotive implementation, thanks to its sunlight robustness and its ability to operate at elevated temperature levels. Visitors to the Melexis' stand will be able to witness the capturing of detailed QVGA resolution TOF imaging data in real time for use by a vehicle's ADAS.

Highly suited to occupancy detection, as well as in-cabin monitoring for climate control, the recently released MLX90640 is a 32 x 24 pixel resolution infrared (IR) sensor array that can deliver industry-leading noise performance, high temperature accuracy and rapid responsiveness. The demo into which this is incorporated affirms its operational effectiveness in an automotive context, providing a more compact and financially attractive alternative to high-end thermal cameras, via use of signal-enhanced thermopile technology.

All three of these very engaging demos highlight Melexis' abilities to deliver cutting-edge automotive engineering. They each draw on the company's 27 years focused on serving this market with semiconductor solutions that improve cars' energy efficiency, comfort and safety.

Inspired Engineering