Melexis showcases dual-head ToF camera at AutoSens Brussels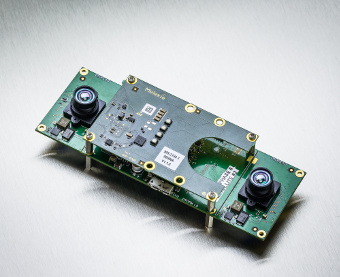 Tessenderlo, Belgium, 13 September 2017 - At the third edition of AutoSens, a conference about ADAS and autonomous vehicle perception technology that aims to bring together technical experts at automotive OEMs and Tier-1 suppliers, Melexis will showcase the dual-head Time-of-Flight (ToF) camera. The camera is based on the recently released EVK75123, a ready-to-use ToF camera, and built around two QVGA ToF sensors (MLX75023) and one companion chip controller (MLX75123), enabling a wide field of view (45 x 120 deg² at 640 x 240 pixels or two independent QVGA detection zones).

With third party software solution running directly on Melexis' sensor evaluation kits, designers will be able to test the ToF technology directly, resulting in design-cycle-time reduction and the possibility to work on the full-blown application right from the beginning. "We choose to maintain our ToF architecture open to third party solution providers and in order to offer a full product portfolio to customers, we keep on working on enhanced QVGA sensors and high resolution VGA," explains Gualtiero Bagnuoli, Marketing Manager Optical Sensors for Melexis.

"The compatibility between DepthSense® software libraries and Melexis's evaluation kit is a big step forward for the automotive industry," states SoftKinetic Sr. Director Sales and Business Development Johannes Peeters. For instance, DepthSense® CARlib enables robust and accurate hand and pose tracking to naturally control the infotainment system and reduce driver distraction. "OEMs and Tier-1's now have access to an all-encompassing - from hardware to software -, and easy to implement solution to integrate state-of-the-art infotainment gesture control into production vehicles." At IAA, SoftKinetic will also showcase, for the very first time, their DepthSense® in-cabin monitoring library (ICMlib), which enables the detection of human on the seat and tracks hands and head position and orientation.

Do you want to know more about our 3D ToF technology?
Come and visit us at AutoSens Brussels between 19-21 September 2017 at booth #14.