MeLiBu® the new standard protocol for automotive high-speed lighting animation
Melexis has addressed the difficulties OEMs are facing when handling high-speed bus and multi-channel LED and RGB-LED drivers, by developing their own innovative standard protocol.
Current trends in automotive lighting
Never before has the spotlight shone so brightly on automotive lighting. It's not surprising. Light has long been allied with comfort, due to its strong influence on a person's emotions: warm colors can induce passion; cold colors can bring calm. Light has an ever-increasing role to play in the communication of information. We are all familiar with lights that warn of a hazard or emergency. With the arrival of autonomous driving, this aspect of lighting is likely to intensify, to address situations in which audio signals may be unheard. Typical examples could be when the driver is using headphones, or is in a telephone conversation. In such cases, the interior suddenly changing red could alert the driver to take control of the car. In addition, visual signals are vital for people with hearing disabilities. Consequently there is a growing trend towards increased static lighting, multi-color ambient lighting, and more complex animated lighting in cars, all of which could be grouped under the description "smart lighting."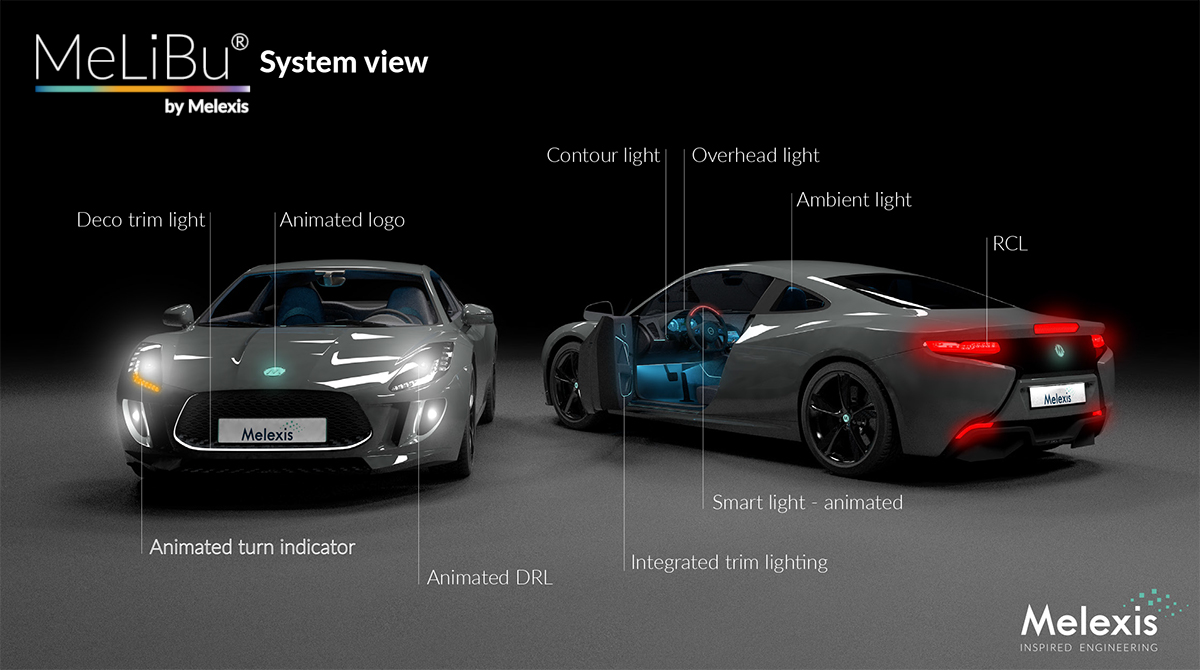 The challenges inherent in smart lighting
Once smart lighting effects become specified for both styling and communication purposes, certain technical challenges arise. Notably, the capabilities of the current CAN and LIN communication protocols are insufficient. CAN is the Controller Area Network; the bus that allows components in an automobile to talk to each other seamlessly. LIN is the Local Interconnect Network; a supplement to CAN which allows for further expansion to peripheral devices. To put it simply, tomorrow's cars are likely to contain too many LEDs changing color too rapidly and too frequently for the current CAN and LIN technologies to control efficiently.
The latest CAN protocol – CAN-FD – has sufficient bandwidth, but because of its architecture and requirements it is too expensive from a Bill of Materials point of view and too limited in regard to the number of possible connected LED drivers. The communication speed and architecture of LIN makes it a feasible solution for slow animations, but not for high-speed applications.
In parallel, the number of RGB-LED stripe manufacturers is increasing, making system integration even more complex, especially when different color sensitivities need to be adjusted separately. At the same time, manufacturers do not wish to limit such exciting new features to their high-end cars, and so are looking for high performance at a low cost.
Further challenges include: ensuring the necessary flexibility in the car architecture for smart lighting without reprogramming the body control module; managing safety-critical applications; ensuring overall system EMC and ESD robustness in such a harsh environment; and fulfilling space requirements to fit smart lighting in any location within the car.
The Melexis solution for smart automotive lighting
Melexis already has considerable experience in the development of LIN-based LED automotive systems. To address the challenges of smart lighting, Melexis has developed the Melexis Light Bus (MeLiBu®). It combines the best of LIN and CAN: the easily usable, extendable protocol and hardware architecture of LIN with the speed and robust communication system of CAN. The result is a high-speed, robust communication system specifically designed for applications with both high numbers of LEDs and high levels of animation, complexity, and dynamic range. It's a license-free system based on the existing CAN-FD physical layer and UART communication with self-synchronization. Moreover, MeLiBu® ensures the seamless integration of LED systems from different tier suppliers, and is suitable for safety-critical applications up to ASIL-B classification.
Despite its advanced technology, MeLiBu® supports a simple wiring harness thanks to its real differential bus structure. Simplicity also extends to the synchronization of light animations over the whole car – with delay-free communication between multiple of hundreds of LEDs. It also enables numerous bus segments to be distributed over the full car. MeLiBu® offers ESD and EMC robustness unreached by any other competitive system, is ISO 11898 and ISO 26262 compatible, and offers the lowest cost per light node on the market.
MeLiBu® is thus ideal for smart lighting applications such as the overhead module, instrument pack, interior and exterior decorative lighting, and warning lights. Another key application is the integrated dashboard light, where MeLiBu® improves communication between car and driver in a similar way to virtual assistant AI technology. Each lighting element can be added into the overall vehicle lighting concept selectively, by brand, model, platform, feature or function – but only where the extra functionality is required. Implementation of any color coding, color changing and blinking sequence is simple and scalable.
In short, this innovative, completely scalable and extremely flexible high-speed automotive bus facilitates the car manufacturer's evolution towards more complex smart lighting without having to rethink the complete body control unit system. Multiple OEMs have validated and implemented MeLiBu®, with the first models already on the road.
Block diagram


---
Download