Pushing back the boundaries of time-of-flight technology for automotive applications
Time-of-flight sensors are changing the way drivers and passengers communicate with their vehicles and enjoy the driving experience, as well as ensuring they are better protected from harm.
A Time-of-flight (ToF) system is capable of understanding subtle human gestures as well as the shape, size and behavior of objects and people inside a car. It enables drivers to operate the infotainment (radio, phone calls…) and the HVAC systems, using simple gestures and without taking their eyes off the road. The sensor can also improve safety, for example through monitoring driver behavior, head pose, body pose, as well as hands-on-wheel detection and advanced seat-belt detection.
Melexis: a timeline of innovation
Recognizing the great potential and importance of such advanced capabilities, Melexis started its work on ToF sensors back in 2004 with a research collaboration with the Free University of Brussels (VUB). When the research team at the VUB created the spin-off SoftKinetic, a Belgium-based developer of sensor-to-software 3D gesture solutions, later on, Melexis continued to cooperate with SoftKinetic. The innovative pixel technology called DepthSense® was patented. Throughout this cooperation, Melexis obtained exclusive license rights to deploy this unique technology in automotive applications.
It soon became apparent that a major challenge was the ability to handle sunlight and adhere to automotive standards. In 2012, Melexis was first to bring a solution for this on the market. In 2014 Melexis started mass-producing the world's first automotive time-of-flight 3D camera IC. This first-generation MLX75023 ramped up in 2015. It focused on human-machine interfaces (HMI) for gesture recognition.
In 2018, the second generation MLX75024 (with its companion chip MLX75123) focused on in-cabin monitoring and exterior applications thanks to its further enhanced sunlight robustness. Also system efficiency was further enhanced by a 50% increase in sensitivity (or quantum efficiency) as well as a 50% reduction in current consumption. The resulting lower heat generation allowed the design of more compact cameras.
Meanwhile, Sony acquired SoftKinetic and renamed the company Sony DepthSensing Solutions. The DepthSense® ToF pixel trademark, based on a Current Assisted Photonic Demodulator (CAPD) pixel structure, remained. Following the acquisition, Melexis expanded the license rights to serve additional markets on top of automotive safety and infotainment. In addition, the Sony and Melexis cooperation led to the creation of a new family of automotive ToF sensors - the third generation of Melexis' automotive ToF sensors. Melexis is responsible for the robust product package design, the assembly, automotive testing and qualification.
In 2019 Melexis launched the first member of its third generation ToF family: the MLX75027 single-chip VGA ToF image sensor. This sensor is able to create a three-dimensional image of the full cabin, allowing people and object monitoring, as well as gesture detection. It can also be used to detect free space and obstacles outside of the vehicle, such as pedestrians, for collision warning and navigation applications. The sensor features modulation frequencies up to 100 MHz, which allows manufacturers to take advantage of the full potential of the latest laser technology (VCSEL) to achieve high distance accuracy. In addition, the device supports a frame rate of up to 135 FPS, enabling the detection and tracking of fast-moving objects.
In 2020, the third generation QVGA time-of-flight sensor IC MLX75026 was released. The MLX75026 features a QVGA (320x240) pixel array and comes in a small package size and small ¼" optical format. Its full compatibility with the VGA ToF sensor highly facilitates the reuse of existing software, which eases migration paths between cost-effective QVGA and more high-end VGA solutions.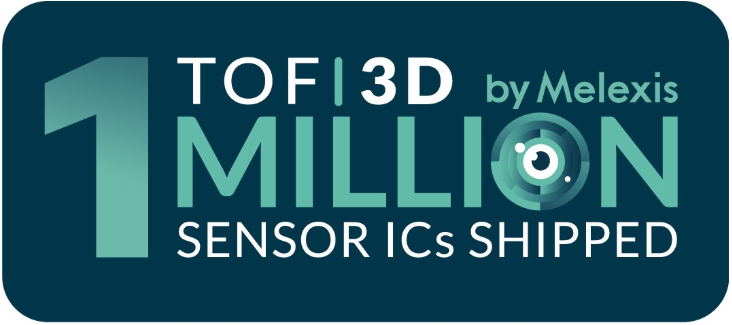 Melexis' automotive ToF portfolio is unmatched in its completeness, with a third-generation QVGA version allowing customers to select the optimal sensor for their system in terms of precision, resolution and integration level. A common architecture & identical pixel performance between the QVGA and VGA versions allows existing customers to switch easily while a comprehensive set of evaluation kits and software reduces the time-to-market for designers developing solutions for new projects and enables significant cost savings.
Further information
If you would like to know how Melexis 3D time-of-flight image sensors and software solutions can optimize your specific automotive application, contact us and we will be delighted to discuss your specific requirements.
Downloads