Melexis motor driver boosts new functions for EVs premiumization

Tessenderlo, Belgium, 29 June 2023 – Melexis introduces the MLX81334, a motor driver designed to optimise electric vehicles thermal valves (accurate battery temperature control) and expansion valves (heat pump refrigeration loop). This enables longer range for EVs. The MLX81334 complements our embedded motor drivers portfolio with extended memories and OTA (over-the-air) support for premium software features.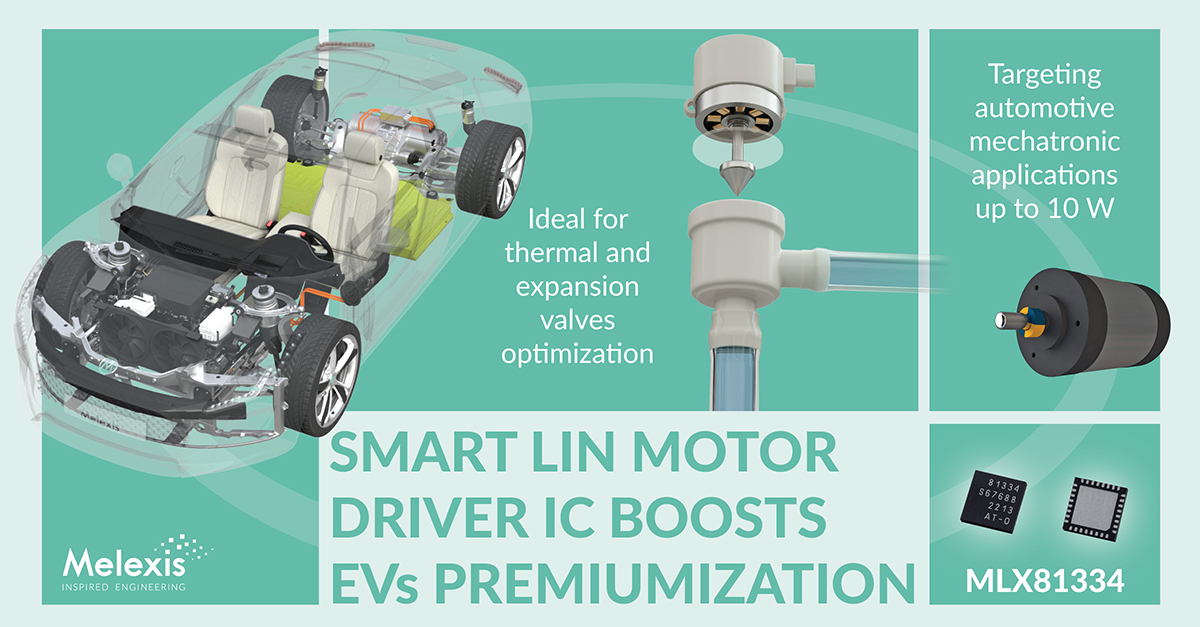 The LIN-based MLX81334 is a 1A-rated motor driver intended for deployment in the mechatronic thermal management systems. This single-chip device efficiently drives small DC, BLDC or stepper motors. Each IC has an embedded microcontroller (with a 16-bit application processor and a separate communications processor), four FET half-bridge drivers, data conversion circuitry, plus LIN or serial interfaces. The 64 KB on-chip memory of the MLX81334 (versus 32 KB for the MLX81332) provides ample capacity for use of sophisticated software - so more safety diagnostics can be incorporated, as well as essential calibration data. Additionally the MLX81334 supports OTA updates.
The driver benefits from Melexis' engineering expertise in high-voltage silicon-on-isolator (SOI) technology. As a result, it combines industry-leading operational robustness with elevated levels of functional integration. Attaining high-power operation in a streamlined form factor, the device takes up only minimal board area. This allows implementation into even the most space-constrained of mechatronic deployments.
Melexis' MLX81334 drivers are supplied in 5mm x 5mm 32-pin QFN packages. They are suitable for use in 12V and 24V automotive systems. Over-temperature, over-current, over-voltage and under-voltage protection functions are all included.
"The latest generation of vehicle mechatronics requires high-power driving hardware with very little PCB footprint. Through our new single-chip driver, we enable more compact thermal valve electronics for electric vehicles," Marc Lambrechts, Product Line Manager Embedded Motor Drivers at Melexis, explains. "By keeping the bill-of-material down and the price/performance attractive, our automotive customers can develop competitive thermal management systems. Furthermore, technical support by our experienced engineers helps in achieving first-time right designs."
Discover more at www.melexis.com/MLX81334.
---
Downloads