Online simulator simplifying the design and implementation of current-sensing solutions using IMC-Hall® technology: directly get a suitable set of IC+Shield.
Read the press release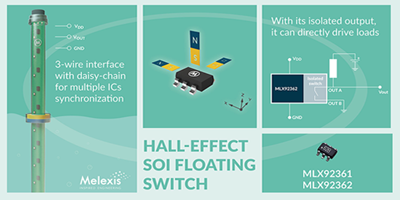 Tiny, contactless and programmable IC delivers failure-free assembly of solutions for liquid level measurement
Read the press release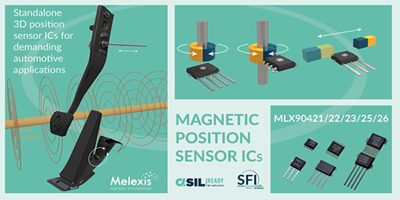 By focusing on the advanced features, the latest rotary and linear positioning devices offer economical solutions
Read the press release
Melexis now releases two relative pressure sensor ICs with extended robustness to harsh media. They complete the PCB-less platform to the market with the most accurate pressure sensor ICs ever made.
Melexis, Lumentum, Sony Semiconductor Solutions and Stanley Electric will present an automotive ready camera at InCabin Phoenix 2023. The camera includes Melexis ToF image sensor (MLX75027), high-power IR VCSEL from Stanley with Lumentum VCSEL arrays and a Sony integrated laser driver.
Melexis, a global microelectronics engineering company, supplies its unique MLX90632 temperature sensor to Samsung's Galaxy Watch5 and Galaxy Watch5 Pro. The non-contact temperature measurement with enhanced accuracy enables menstrual cycle tracking.