Evaluation boards for MLX90381
EVB90381
Melexis
These EVB90381 evaluation boards provide an easy way to connect the MLX90381 Triaxis® pico-resolver sensor IC to a microcontroller or measurement device.
Read more
Top features
Pre-programmed for End of Shaft (on-axis) rotary position sensing with a diametric magnet. It can be re-programmed for Through Shaft (off-axis) via I²C

Versions for medium field (10..70 mT) and for high field(40..160 mT)

Version with pin header (compatible DVKmagnetic) and without pin header (self-handling)

Single die, DFN-6 package

Analog sine cosine output

High speed, capable of measuring from 0-50k RPM
Discover all features
The EVB90381 contains a single MLX90381 IC mounted in the middle of a 25mm x 35mm PCB.
These boards include mounting holes for installation into a system and a series of holes on a standard 2.54mm (0.100") pitch allowing for connection to the MLX90381 via flying leads or a pin header.
The necessary passive components are included to allow for interfacing via two analog output signals; sine and cosine.
Order code

EVB90381-GLW-ACA-000

EVB90381-GLW-ACA-000_h

EVB90381-GLW-ACA-100

EVB90381-GLW-ACA-100_h

Product

MLX90381-GLW-ACA-000

MLX90381-GLW-ACA-000

MLX90381-GLW-ACA-100

MLX90381-GLW-ACA-100

Description

Medium Field (10..70 mT)

High Field (40..160 mT)

Version without pin headers

Version with pin headers. Compatible DVKmagnetic.

Version without pin headers

Version with pin headers. Compatible DVKmagnetic.
Pre-programmed MLX90381 for End of Shaft (on-axis) rotary position sensing.
Note that the IC can be re-programmed for Through Shaft (off-axis) via I²C
Magnet not included
Without pin header

With pin header,
compatible DVKmagnetic
EOS
End of Shaft
TS
Through Shaft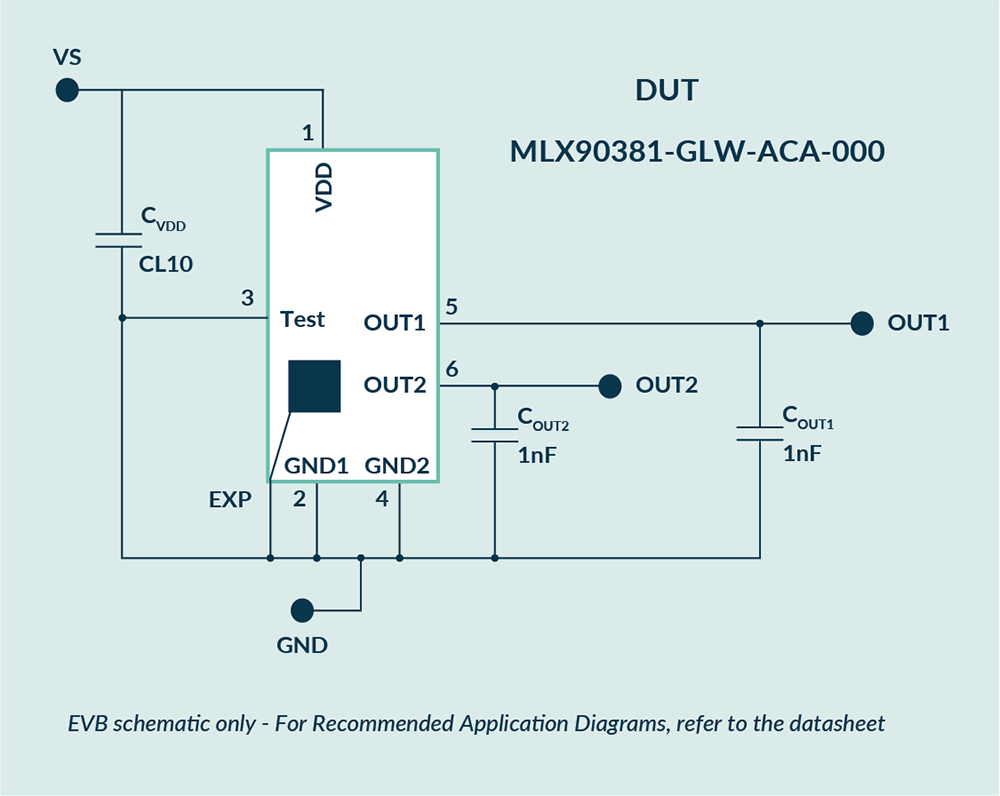 Pre-programmed for End of Shaft (on-axis) rotary position sensing with a diametric magnet. It can be re-programmed for Through Shaft (off-axis) via I²C

Versions for medium field (10..70 mT) and for high field(40..160 mT)

Version with pin header (compatible DVKmagnetic) and without pin header (self-handling)

Single die, DFN-6 package

Analog sine cosine output

High speed, capable of measuring from 0-50k RPM