A spotlight on our medical-grade temperature sensors
In June 2019 our medical-grade temperature sensor MLX90632 was recognized as a winner of the Excellence in Sensors Innovation at Sensors Expo in the US. On 4 December 2019 our world's smallest medical-grade FIR sensor received attention again by winning the Elektra Excellence in Product Design for Medical in the UK.

As one of our customers stated, miniaturized far-infrared sensors are typically sensitive to thermal interference, but the MLX90632 mitigates this effect with smart compensation algorithms. And because it is so tiny in size, it is extremely well suited for applications such as contactless ear thermometers to fit into children's ears.
Melexis is building upon more than a decade of experience since the first medical-grade factory calibrated sensor was shipped as early as 2009 and as of today millions of pieces have been shipped.
More in particular, our MLX90614 series have contributed to make this world a substantially healthier place in the last decade. For example the 35° field-of-view (FOV) version of this product, for instance, has proven to be the preferred choice to implement in standard forehead thermometers. Our 5° field-of-view version, on the other hand, allows higher detection distance and has recently been integrated and deployed into an interactive robot, allowing fast daily screening in child daycare facilities.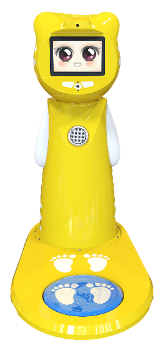 The common denominator for all our factory-calibrated medical-grade infrared sensors is they are fast, accurate and allow non-contact operation. This is a much-needed feature in situations where people need to be screened for fever (virus) symptoms in an efficient and accurate way.
The world needs more of such technologies and we are proud to be able to offer them worldwide.
Customer references
The MLX90614 measures the forehead temperature of children at daycare in the Kindergarten Robot of Hunan ChaoNeng Robot Technology Co Ltd.
Thanks to the 5° field-of-view, the detection distance can be larger than with sensors with a wider field-of-view.
cosinuss° uses the Melexis MLX90632 FIR sensor in the continuously measuring clinical thermometer for children, degree°.