Melexis named 2019 Best of Sensors Award winner

Medical grade temperature sensor MLX90632 recognized for Excellence in Sensors Innovation.
San Jose, California, 27 June 2019 - Melexis has been named a 2019 "Best of Sensors" Award winner. The company's medical grade temperature sensor MLX90632 was recognized as the winner of the Excellence in Sensors Innovation (category) which highlights cutting-edge advancements and achievements that are moving the sensors industry forward. The prestigious awards were presented by the Editor of FierceElectronics during Sensors Expo & Conference 2019, held this week in San Jose, California.
The new medical grade MLX90632 infrared sensor is based upon Melexis' established far infrared (FIR) technology that utilizes the fact that every object emits heat radiation proportional to its temperature. The ultra-small device is a complete solution in a single 3x3x1mm QFN package including the sensor element, signal processing, digital interface and optics thereby allowing rapid and simple integration into a wide variety of space-constrained modern applications.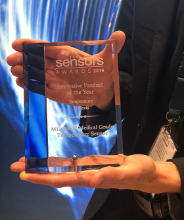 The small size, high thermal stability and optimization for human body temperature make the MLX90632 ideal for a new class of medical applications that are currently out of reach for other sensors. This includes wearable health monitoring devices, medical grade contact sensors, smart glasses, point-of-care applications and classic medical devices such as forehead and ear thermometers.
Sensors Expo & Conference is the industry's premier event dedicated to sensors, connectivity, and IoT. The winners of the 2019 Best of Sensors Awards represent the advances in innovations and real-world applications of sensors as well as the teams and individuals who demonstrate commitment to engineering excellence and overall ingenuity.
"For more than three decades Sensors Expo has been bringing together the most exciting technological advancements and cutting-edge applications from across the industry. The winners of this year's Best of Sensors Awards underscore just how far-reaching the impacts of these innovations have become. Melexis personifies the commitment to engineering excellence and overall ingenuity we look for and we are thrilled to recognize their efforts in an extremely competitive field," noted Cal Groton, Event Director, Sensors Expo & Conference.
"We are very honored to have won this prestigious award from Sensors Expo," said Joris Roels, Melexis' Marketing Manager for Temperature Sensors. "We know that a reputable panel of industry experts deliberated carefully on the submissions. This recognition affirms Melexis' absolute commitment to designing, developing and delivering innovative micro-electronic solutions that enable designers to turn ideas into great applications."
Video: Robust temperature sensing for medical applications (MLX90632) (2m23s):

Video: Melexis showcasing award winning medical grade temperature sensor at Sensors Expo 2019 (MLX90632) (2m10s):
---
Downloads
---
Related articles