Melexis temperature sensor winner of the Excellence in Product Design for Medical at this year's Elektra awards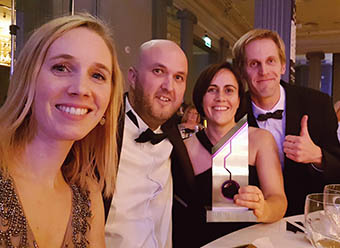 London, United Kingdom, 5 December 2019 - The Elektra Electronics Industry Awards are the high point of the year for the European electronics industry, where the finest new products, technology innovation and company performances of the year are showcased. An independent panel of judges assesses the quality of all entries and the winners are announced at the Awards Ceremony.
Melexis entered the Excellence in Product Design for Medical category with its MLX90632, the world's smallest medical-grade FIR sensor. The temperature sensor is assembled in a surface mount package for use in a variety of applications, including wearables and, in particular, advanced in-ear-devices (so-called hearables) and clinical point-of-care applications where highly accurate human body temperature measurement is required.
The MLX90632 is based upon Melexis' established far-infrared (FIR) technology that utilizes the fact that all objects emit heat radiation. Miniaturized far-infrared sensors are typically sensitive to thermal disturbances, however, the MLX90632 mitigates this effect through sophisticated compensation algorithms; delivering high levels of thermal stability. The new medical-grade MLX90632 is optimized for the normal human body temperature range, where it offers medical-grade accuracy of ± 0.2 °C thanks to advanced in-factory calibration procedures.
The MLX90632 is provided in a Surface Mount Device (SMD) Quad Flat, No-leads (QFN) package, rather than a metal case. This overcomes the main drawbacks of existing sensors, as it allows Melexis to make a total non-contact temperature sensor in a much smaller package. The advanced signal processing integrated into the device overcomes the issue of thermal stability, allowing the MLX90632 to be used in any medical application where temperature measurement is required.
Joris Roels, Marketing Manager Temperature Sensors commented: "I am very honored by this prestigious recognition especially because this new product is the result of great teamwork and inspired engineering. We stay absolutely committed to designing, developing and delivering innovative micro-electronic solutions that enable designers to turn ideas into great applications."
For an overview of the Elektra Awards and the winners of 2019, please visit the Elektra Awards website.
Video: Robust temperature sensing for medical applications (MLX90632) (2m23s):
Video: Melexis showcasing award winning medical grade temperature sensor at Sensors Expo 2019 (MLX90632) (2m10s):
---
Downloads
---
Related articles