Melexis starts construction of its new building in Sofia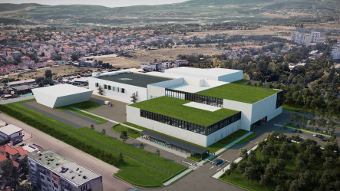 Melexis to invest 75M EUR in facility expansion and to create new jobs in Bulgaria.
Sofia, Bulgaria, 4 July 2018 - Melexis laid the first stone of its new building in Sofia. The facility expansion, spread over an impressive 15,000 m², will further extend the complex of Melexis in Sofia, which already occupies a significant 7,500 m². The new building is expected to be fully operational within two years.

The groundbreaking of the new building is part of the ambitious five-year expansion plan of Melexis, which includes significantly expanding the manufacturing space, R&D and warehouse facilities. Melexis projects to invest a total of around 75M EUR over five years.

The new building in Sofia is in line with modern practices for energy efficient facilities, with an automated building management system, intelligent temperature and light monitoring, reuse of energy and heat. The building will be based on a contemporary interior design concept for offices with separate spaces for individual work, teamwork, brainstorming sessions, informal meetings, and open air work space.

"Our goal is to make the office in Sofia an even more attractive location for Bulgarian and foreign specialists who choose to live and work here. For the next five years, we have ambitious plans that start with this expansion. Our team is expanding as well with focus on development, manufacturing, supply chain and IT departments," said Sylvain Collot, Site Manager of Melexis Bulgaria.

At present, Melexis Bulgaria, which was established in 2000, employs more than 475 people, and the plans include an expansion of the team with 100 new hires (up to 575 people) until the end of 2018 and a total of 300 new hires until 2022.
---
Related articles

Inspired Engineering