Melexis launches new fully integrated ASIL ready 3D and joystick magnetic position sensor for demanding automotive applications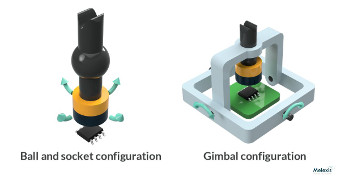 Tessenderlo, Belgium, 27 November 2018 -Melexis has announced a new member to its third-generation magnetic sensor family, the MLX90378, which provides robust absolute 3D position sensing for automotive applications including transmission sensors and gear shifters.
This new device consists of a Triaxis® Hall magnetic front-end, an analog to digital signal conditioner, a DSP for advanced signal processing and two output stage drivers. Due to the Integrated Magneto Concentrator (IMC), it is sensitive to magnetic flux in three planes (X, Y & Z). This allows for the measuring of the absolute 3D (or joystick) motion of any moving magnet, enabling the design of non-contact position sensors. The MLX90378 offers two PWM outputs or a single SENT output capable of indicating two angles (forward/backward, left/right). In addition, the SENT protocol allows for the transmission of multiple frames of data allowing for the raw X, Y, and Z magnetic signals to be transmitted for customers that wish to do their own position processing.
The MLX90378 device includes an additional input pin that makes it possible to fully integrate other sensors (such as temperature, pressure, or switch inputs), allowing for the additional signal to be transmitted over the SENT output, reducing wire harness size and complexity and enabling new and unique designs.
Commenting on the release, Nick Czarnecki, Marketing Manager - Position and Speed Sensors at Melexis says: "We are excited to be adding this new product that will build upon the success the third-generation Triaxis family has enjoyed to date. The automotive market continues to look for solutions to meet tough problems and Melexis will continue to work with our customers and OEMs to conceive, design, and build innovative sensors to meet those challenges." The ISO26262 ASIL-C capability of the MLX90378 further ensures it is suitable for safety-critical automotive applications.
The MLX90378 is available in both a single die (SOIC-8) and dual die (TSSOP-16) package for 3D or joystick applications, complements the SPI-output MLX90363 and improves upon the previously released MLX90333.
---
Related articles

Inspired Engineering
Melexis
Contact
Join our mailing list