Creative future-thinking for inspired engineering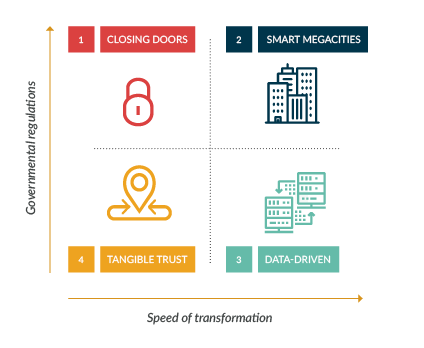 Chalking out four possible worlds impacting mobility in different ways.

Tessenderlo, Belgium, 12 January 2018 – Melexis did an extensive scenario exercise on what the world and in particular mobility could look like in 2030. Our world is changing at an unprecedented speed, making direction indicators increasingly necessary to anticipate external changes as soon as possible.

Executives from inside and outside our company were being interviewed and we did an exhaustive literature study followed by internal workshops. We sought to think beyond our own imagination and independently of our own experiences and beliefs. To make customer-driven innovation possible we need to understand the concerns of every citizen, in every future.

This resulted in four possible scenarios including what each scenario means for mobility in 2030. In the first scenario geopolitical interests are the main driving force and increased nationalism and protectionist behavior has slowed down the economic growth. In the second scenario smart cities play a strong and proactive leadership role, which will ultimately lead to flourishing city economies. In the third scenario technology giants introduce new business models in which data and service-oriented thinking are essential. In the fourth scenario the growing skepticism towards technology has led to a status quo.

Curious about what these four scenarios would bring about for the future and for mobility? Discover the result of our future-thinking in the scenario document. 
Download scenario document (PDF - 3.54 MB)