Melexis unveils new QVGA resolution time-of-flight sensor to complete its Gen 3 portfolio

MLX75026 offers the same performance in half the size of the existing MLX75027 VGA 3D ToF camera sensor IC
Tessenderlo, Belgium, 17 September 2020 - Melexis, a global microelectronics engineering company, announces the introduction and production volume availability of the MLX75026, an AEC-Q100 qualified QVGA time-of-flight sensor. The MLX75026 is the third generation of QVGA ToF devices from Melexis and joins the wider product portfolio. 
The MLX75026 delivers over twice the performances of the previous generation of ToF sensors in terms of quantum efficiency and distance accuracy. In addition, the MLX75026 offers software-compatibility with the MLX75027 Gen 3 VGA ToF sensor, facilitating migration between VGA and QVGA resolutions. The new sensor is also half the size and requires only 30% of the computing power needed by the MLX75027 VGA ToF sensor.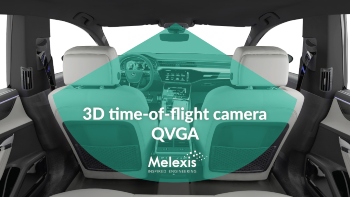 This fully integrated solution is ideal for automotive use cases like driver monitoring systems (DMS), hand movement and robust gesture recognition (HMI) and for in-cabin monitoring systems (IMS). It delivers intrinsic robustness with respect to scenes with low contrast and strong sunlight, which are usually a severe challenge for conventional 2D image sensors. This makes the MLX75026 ideal for applications where reliability and availability of data is important. The device is also targeting other markets and applications for which QVGA resolution is adequate, including robust people counting and object/obstacle detection.
MLX75026 has QVGA (320x240 pixels) resolution with a 1/4 inch optical format and supports both 850 nm and 940 nm illumination. The IC is configurable over an I2C interface and provides CSI-2 serial data output. The small form factor, simple power supply requirements, very low power consumption and low number of external components on the PCB allow the design of compact and cost-effective ToF cameras.
Samples of the MLX75026 are available now, and the evaluation kit in November 2020.
---
Downloads
---
Related articles