Melexis announces a 20 W low noise single coil fan and pump driver for automotive applications

Tessenderlo, Belgium, 18 March 2021
Melexis, a global microelectronics engineering company, introduces the MLX90412-L as the automotive variant of the already well established MLX90412.
The MLX90412-L is a dedicated automotive, all-in-one single-coil fan and pump driver IC, with a peak driving capability of 2.2 A. It is suitable for air pumps, water pumps, axial fans and radial and cross blower applications. Operating on a voltage ranging from 3.5 V to 32 V, and robust up to 40 V, the MLX90412 is well suited for any fan, blower or pump applications operating on 12 V (automotive) and 24 V (trucks) board nets. It is suitable for driving loads from 0.1 W up to 20 W.
The MLX90412-L is AECQ100 certified. It can be applied on the automotive battery without additional protection and survives load dump pulses up to 40 V. The operating junction temperature ranges from -40 °C to 150 °C. Typical applications include seat blower fans, battery cooling fan, DCDC converter cooling pumps or fans as well as HV inverter (IGBT/SIC cooling).
The MLX90412 offers unprecedented acoustic noise/vibration performance, making it a cost-effective alternative for applications which were previously considered exclusive to more expensive 3-phase solutions.
The MLX90412-L comes in a small Exposed pad DFN10 3x3 and is available for order.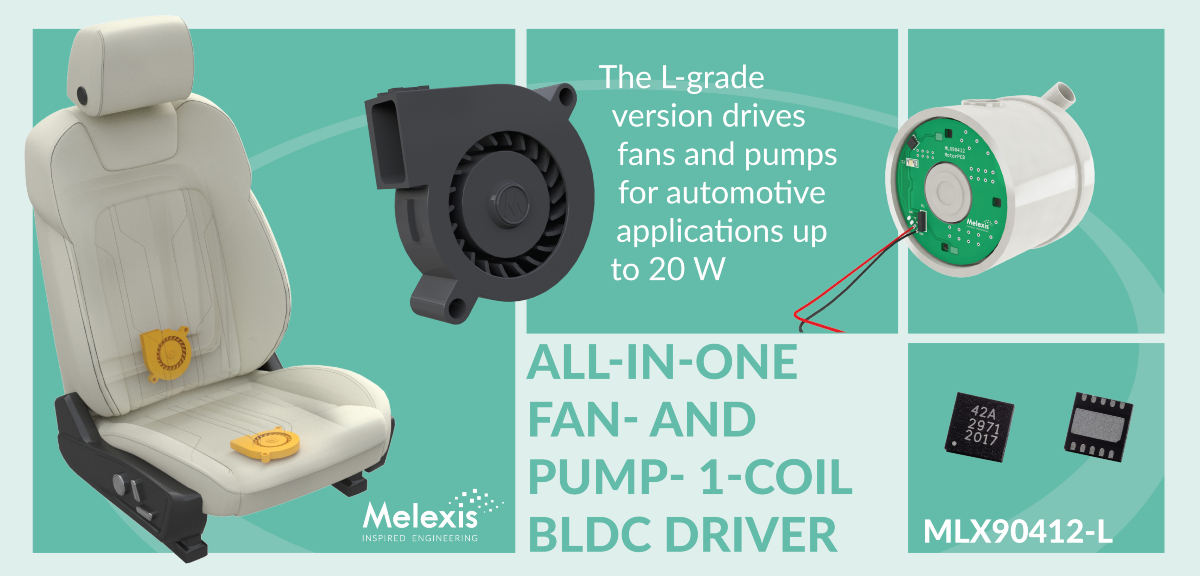 ---
Downloads