2.2A single-coil fan and pump driver
MLX90412-automotive
Melexis
The MLX90412 is a low-noise all-in-one single-coil fan-/ pump driver, with a 2.2 A drive capability, suited for air-/water pumps, axial fans, radial-/cross blowers.
MLX90412KLW: IT/Appliances/Industrial
MLX90412LLW/GLW: Automotive
Read more
Top features
All-in-one fan driver including a motor controller, hall sensor and 0.35 Ohm driver

Peak motor current up to 2.2 A

Integrated supply clamp

Adaptive commutuation for best in class efficiency for any fan/blower design, over it's full speed operating range

Commutation options


Maximum torque

Very low acoustic noise

Low electromagnetic emissions

PWM speed control input


Open-loop control with max duty cycle limitation setting

Closed loop speed control +/- 1.5%

Protections and diagnostics


Locked Rotor Protection (LRP) (Programmable)

Temperature Shutdown (TSD)

Over Voltage protection (OVP) (Programmable)

22 V for car 12 V board net

35 V for truck 24 V board net

Short circuit protection (OC)

Current limit (CL)

FG/RD open drain diagnostics output (Programmable)

Maximum junction temperature of 150 °C (160 °C for the MLX90412GLW variant)

Certifications MLX90412LLW/GLW (automotive):


AEC-Q100 Rev-H qualified package

Automotive PPAP (PSW)

I2C programming


Fast prototyping

End-of-line programming

Package


Exposed pad DFN10 3x3 with wettable flanks

small (9mm2) footprint, for minimal PCB size

<1mm height
Discover all features
2.2A single-coil fan and pump driver -
MLX90412-automotive
The MLX90412-L is a dedicated automotive, all-in-one single-coil fan and pump driver IC, with a peak driving capability of 2.2 A, suited for air pump, water pump, axial fans, radial blower and cross blower applications.
Operating on a voltage ranging from 3.5 V to 32 V, and robust up to 40 V, the MLX90412 is well suited for any fan, blower or pump applications operating on 12 V and 24 V board nets.
The MLX90412LLW (Automotive) is AECQ100 certified and can be applied on the automotive battery without additional protections, and survives load dump pulses up to 40 V. The operating junction temperature ranges from -40 °C to 150 °C. Typical applications include seat blower fans, battery cooling fan, DCDC converter cooling pump or -fan as well as HV inverter (IGBT/SIC cooling).
The MLX90412GLW (Automotive) extends the MLX90412LLW performances. It is optimized to operate at high junction temperatures up to 160 °C and is qualified to meet extended operating lifetime demand. Typical applications include automotive water pumps: 15 W pumps up to 135 °C in ICEs, or 20 W pumps up to 85C in EVs.
The MLX90412KLW (IT/Appliances/Industrial) can be found here.
The MLX90412 features several commutation control options, optimized for either lowest acoustic noise and vibration (sinewave), or highest efficiency (1/16), or lowest EMI (Flat).
The patented adaptive control algorithm ensures optimal operation with the lowest reverse current, over the full speed range independent of the motor inductance or applied lead angle.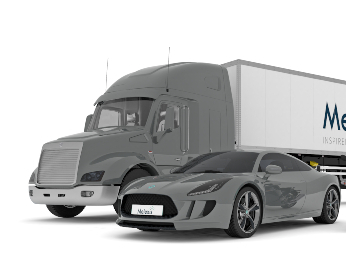 Both open loop and closed loop speed control is possible, with a wide range of dynamic (PI) settings. Its closed loop speed control can also be leveraged as no-load or run-dry protection in pump applications, avoiding running pumps at excessive speeds, with consequent high audible noise, and early failure.
The optional I2C interface for EE configuration, allows fast prototyping and end-of-line programming for customizing the MLX90412 for a wide range of applications, including a wide range of start up configurations, electrical lead angle, max speed settings, wave shaping etc..
In combination with the low acoustic noise current shaping, the MLX90412 offers unprecedented acoustic noise/vibration performance, making it a cost-effective alternative for applications which were previously considered exclusive to more expensive 3-phase solutions.
All-in-one fan driver including a motor controller, hall sensor and 0.35 Ohm driver

Peak motor current up to 2.2 A

Integrated supply clamp

Adaptive commutuation for best in class efficiency for any fan/blower design, over it's full speed operating range

Commutation options


Maximum torque

Very low acoustic noise

Low electromagnetic emissions

PWM speed control input


Open-loop control with max duty cycle limitation setting

Closed loop speed control +/- 1.5%

Protections and diagnostics


Locked Rotor Protection (LRP) (Programmable)

Temperature Shutdown (TSD)

Over Voltage protection (OVP) (Programmable)

22 V for car 12 V board net

35 V for truck 24 V board net

Short circuit protection (OC)

Current limit (CL)

FG/RD open drain diagnostics output (Programmable)

Maximum junction temperature of 150 °C (160 °C for the MLX90412GLW variant)

Certifications MLX90412LLW/GLW (automotive):


AEC-Q100 Rev-H qualified package

Automotive PPAP (PSW)

I2C programming


Fast prototyping

End-of-line programming

Package


Exposed pad DFN10 3x3 with wettable flanks

small (9mm2) footprint, for minimal PCB size

<1mm height
All-in-one fan- and pump 1-coil BLDC driver - MLX90412
Product
Melexis proudly presents the MLX90412, a single-coil fan and pump driver IC with a peak driving capability of 2.2 A. The MLX90412 combines high performance with low-noise operation, making it ideal for a wide range of home appliances and industrial applications. Suitable for driving loads of up to 35 W, it complements the previously released MLX90411, adding a high power option to the range.