800 mA single coil fan driver for 5V/12V/24V auto & truck applications
MLX90411-automotive
Melexis
The MLX90411 is a low-noise all-in-one single-coil fan driver IC with a 0.8 A drive capability, suitable for any fan, blower or pump applications
MLX90411KZE/KLD: IT/Appliances/Industrial
MLX90411LZE/LLD: Automotive
Read more
Top features
All-in-one fan driver, including high-sensitivity Hall-effect sensor

Up to 800 mA motor current

Integrated supply clamp: 20V and 40V versions

Adaptive commutuation for best in class efficiency for any fan/blower design, over it's full speed operating range

Commutation options


Maximum torque

Very low acoustic noise

Low electromagnetic emissions

PWM control input


Open-loop control with max duty cycle limitation setting

Closed loop speed control +/- 1.5%

Operating supply range from 3.2 V to 32 V

Operating junction temperature from -40 to 150°C

Protections and diagnostics


Locked Rotor Protection (LRP) (Programmable)

Temperature Shutdown (TSD)

Over Voltage protection (OVP) (Programmable)

Short circuit protection (OCP)

Current limit (CL)

FG/RD open drain diagnostics output (Programmable)

Certifications MLX90411L (automotive)


I2C programming


Fast prototyping

End-of-line programming     

Package


Straight-lead SOT package (ZE)

Tiny UTDFN 2.5 x 2.0 x 0.4 mm (LD)
Discover all features
800 mA single coil fan driver for 5V/12V/24V auto & truck applications -
MLX90411-automotive
The MLX90411 is a low-noise all-in-one single-coil fan driver IC with a 0.8 A drive capability, designed for meeting the demanding automotive quality requirements through design for test, package qualification and extensive test coverage.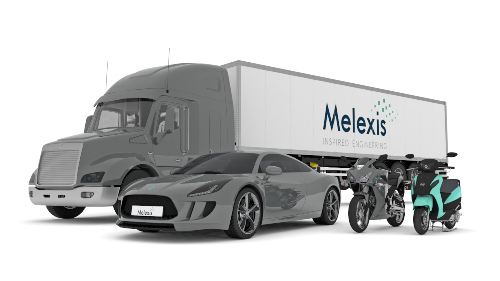 The MLX90411LZE/LLD (automotive) is AECQ100 certified. The operating temperature range is from -40 °C to 150 °C. A 20V clamp version is ideal for operating fan applications on a regulated 5V supply.
A 40V clamp version is robust to 40V load dump, and is ideal for operating up to 7W fans directly on the 12V car battery without any additional protection. This version can also be applied on a 24V truck battery with the necessary additional protections against load dump. Typical applications range from LED headlamp fans, seat fans over sensor fans as well as multimedia GPU fans.
The MLX90411KZE/KLD (consumer) can be found here
The MLX90411 features several adaptive commutation control options optimized for either lowest acoustic noise and vibration, or highest efficiency, or lowest EMI. Extensive start-up options ensure robust and reliable start up over the extended fan lifetime.
Both open loop and closed loop speed control are possible, with a wide range of dynamic (PI) settings.
The device is programmable via an I2C interface and all options are configurable in the on-board EEPROM. Based upon 0.18 μm technology, the tiny MLX90411 is available in a straight-lead SOT package (-ZE package code) and a 2.5 x 2.0 x 0.4 mm UTDFN (LD package code) package.
All-in-one fan driver, including high-sensitivity Hall-effect sensor

Up to 800 mA motor current

Integrated supply clamp: 20V and 40V versions

Adaptive commutuation for best in class efficiency for any fan/blower design, over it's full speed operating range

Commutation options


Maximum torque

Very low acoustic noise

Low electromagnetic emissions

PWM control input


Open-loop control with max duty cycle limitation setting

Closed loop speed control +/- 1.5%

Operating supply range from 3.2 V to 32 V

Operating junction temperature from -40 to 150°C

Protections and diagnostics


Locked Rotor Protection (LRP) (Programmable)

Temperature Shutdown (TSD)

Over Voltage protection (OVP) (Programmable)

Short circuit protection (OCP)

Current limit (CL)

FG/RD open drain diagnostics output (Programmable)

Certifications MLX90411L (automotive)


I2C programming


Fast prototyping

End-of-line programming     

Package


Straight-lead SOT package (ZE)

Tiny UTDFN 2.5 x 2.0 x 0.4 mm (LD)