Li Auto Inc. selected Melexis ToF for in-car gesture control

Tessenderlo, Belgium, 10 November 2022 – Li Auto Inc., an emerging Chinese EV OEM incorporates a new generation of intuitive gesture control system in its cars. The 3D camera at the core of this system integrates the Melexis MLX75027, the world's only automotive qualified VGA resolution time-of-flight (ToF) sensor.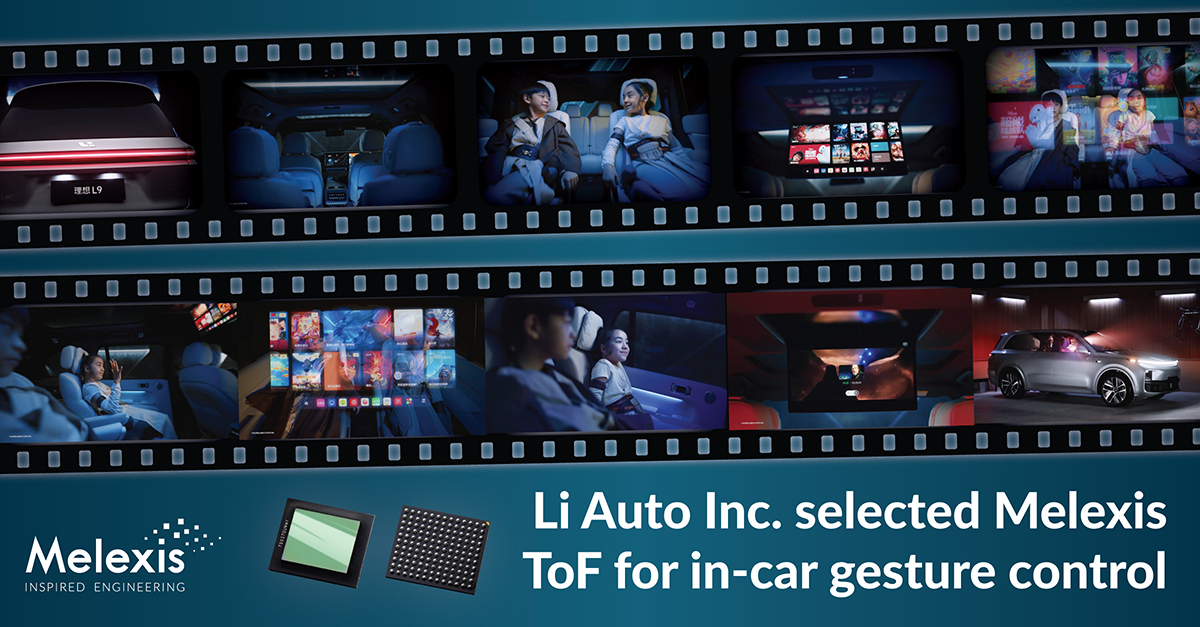 Melexis, a global microelectronics engineering company, has announced that Li Auto Inc. selected the MLX75027 3D depth sensor for the infotainment system of the Li L7, L8, L9, and Li One premium SUV models. With 307,200 pixels, true VGA resolution, the MLX75027 maps user gestures directly to the system's large, full-color display to ensure flawless user control. With high sunlight immunity, the sensor ensures consistent performance in all ambient conditions.
"This is an important cooperation that strengthens the position of our ToF sensors in the Chinese market," said Gualtiero Bagnuoli, marketing manager optical sensors, Melexis. "Our expertise in this technology places Melexis at the forefront of in-cabin sensing, which is ideal for functional-safety and security-related applications in addition to these novel and intuitive gesture controls we have developed with Li Auto."
Li Auto commented on this development: "We chose the MLX75027 for its excellent performance and quality, consistent with our vision to enhance the interior environment as a comfortable and convenient home on wheels. Moreover, the outstanding support we received throughout the project helped to ensure the timely market launch of our latest models."
The MLX75027 is AEC-Q100 qualified and has been selected by multiple automotive OEMs for 3D scene analysis in forthcoming new models. It is suitable for numerous use cases, including DMS (Driver Monitoring System), which is soon to become mandatory in leading automotive markets worldwide. In addition to driver fatigue monitoring, further applications include driver identification, which aids fraud prevention and anti-spoofing.
The sensor integrates a high-speed MIPI-2 camera interface and captures up to 135 distance frames per second, ensuring fast response in gesture control and eye tracking applications. It has a low power consumption and integrates easily with VCSEL modulated at up to 100 MHz, ensuring consistent performance in all ambient lighting conditions. An evaluation kit, EVK75027, is available to help simplify design start and accelerate time to market.
Discover more about Melexis time-of-flight at www.melexis.com/MLX75027.
About Li Auto Inc.:
Li Auto Inc. is a famous electric vehicle (EV) manufacturer in China. The company designs, develops, manufactures and sells luxury intelligent EVs. With innovative technologies and an outstanding business model, Li Auto commits to safe, comfortable and smartly designed cars and included services. The first model, the Li ONE, has become a phenomenal milestone, reaching more than 100,000 units in the field.
On October 18, 2018, Li Auto launched its first model: Li ONE, a luxury six-seater intelligent electric SUV.
On July 30, 2020, Li Automobile was officially listed on the NASDAQ Stock Market, with stock code: LI.
On August 12, 2021, Li Auto was listed on the Main board of Hong Kong Stock Exchange, stock code: 2015.
On June 21, 2022, Li Auto launched its flagship model: Li L9, a six-seat SUV for family intelligent flagship.
On September 30, 2022, Li Auto launched Li L8: Family Smart luxury six-seater SUV, and Family Smart flagship five-seater SUV: Li L7