Melexis smallest all-in-one LIN driver propels relay window lifters

48 KB memory in a compact QFN24 package (4 mm x 4 mm) to drive cost-effective relay DC motor applications.
Tessenderlo, Belgium, 20 October 2022 – Melexis' new LIN pre-driver IC for relay DC motors offers a combination of high power, compactness, and attractive pricing. The MLX81160 is the latest addition to the company's Gen3 family of compatible embedded motor drivers. Its 48 KB of memory (16 KB ROM for the included LIN protocol and 32 KB Flash for the application software) is suitable for applications like window regulators.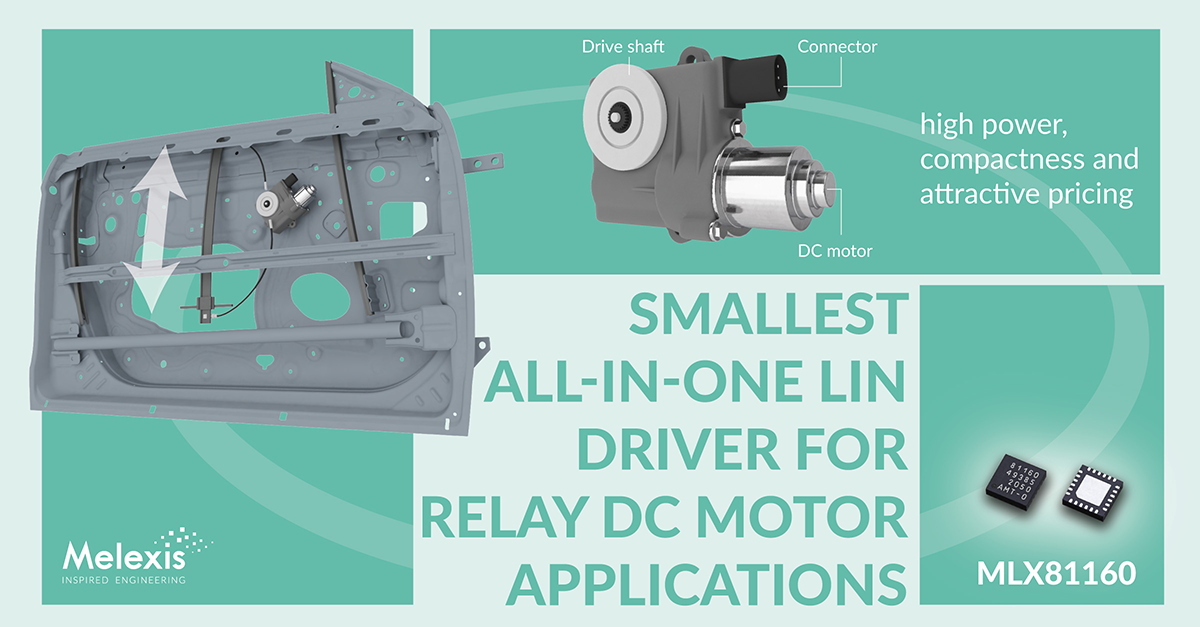 Strengthening its position in motor driving for automotive comfort applications, Melexis has just introduced the MLX81160. By leveraging high-voltage silicon-on-isolator (SOI) technology, this LIN-based pre-driver exhibits operational robustness for 12 and 24 V applications.
This device is the successor to the company's widely implemented MLX81150 LIN slave device for relay and DC motor control. The key uses are window lifters and sunroof regulators with relay DC motors, as well as small DC motor applications with external PN-MOSFET power regulation.
AEC-Q100 qualified, the MLX81160 incorporates all the essential functional elements for motor driving within a single chip. These include a LIN interface, an embedded microcontroller unit, 6x PWM drivers, 3x high-voltage I/Os, and more. Extra I/Os allow connecting a dedicated 4-wire latch for motor indexing. Melexis will soon launch a new 4-wire latch: the innovative features of the MLX92352 will provide the ultimate flexibility. Together with the MLX81160 it is a full Sense & Drive solution.
The MLX81160 is embedded into a compact 4 mm x 4 mm QFN24 package. It fits on the smallest PCB when used for state-of-the-art mechatronics.
On top of enabling performance improvements and reducing costs, and having the smallest dimensions, the MLX81160 has other important advantages. These include faster programmability (with 32 KB Flash completed in <2.5sec) and ASIL B functional safety capabilities. In addition, the dual current sensing feature permits ripple counting and the driving of multiple DC motors.
"The price/performance characteristics of the MLX81160 mean that our tier 1 customers are able to develop competitive mechatronic systems for their automotive OEM partners. It brings the benefits of digital interfacing to the price-sensitive DC motors such as mid-range window lifters". Marc Lambrechts, the Product Line Manager Embedded Motor Drivers at Melexis, explains: "Our team of experienced embedded application engineers is available for first-time-right design implementations and quicker project completion".
Discover more at www.melexis.com/MLX81160 or contact us via sales@melexis.com.
---
Downloads