Melexis leads new wave of TPMS innovation with world's smallest and lowest power sensor device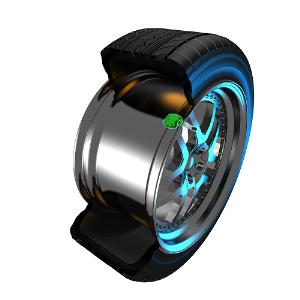 MLX91804 delivers industry-leading pressure accuracy while drawing the lowest current & taking up less board space than previously achieved

Melexis, a global micro-electronics engineering company, continues to make major advances in tire pressure monitoring system (TPMS) technology with the introduction of its third generation TPMS IC - the MLX91804.
Supplied in a robust 14-pin DFN type lead-less package, this product has a 60% smaller footprint and draws 3 times lower sleep mode current than any competing TPMS IC on the market. It incorporates a sophisticated microcontroller and MEMS-based pressure sensing element, as well as energy efficient 315/433 MHz wireless transmitter (supporting data rates up to 150 kbits/s) and 125 kHz receiver for communication with the vehicle's relevant electronic control unit (ECU). A 16 kB embedded program memory is included for the storing of custom application data/libraries. In addition, there is a built-in single or dual axis high-g range accelerometer to support all market available wheel sensor auto-location functionalities.
The combination of minimal footprint and high degrees of integration offered by the MLX91804 means that a significant reduction in PCB size can be realised. Likewise, the device's low power consumption (in sleep mode as well as when fully operational) permits a downsizing of the specified battery. All this results in a smaller size and lower weight sensor module. Together with high-g range and fast data acquisition accelerometer, it also represents a step closer to the tire mounted sensor (TMS) implementations that automotive Tier 1 suppliers are looking to use in the future. Best in class precision and low power fast pressure measurements allow extra new features to be implemented like tire filling assistant without a visible impact on battery life. The -40 °C to 125 °C operational temperature range and strong resilience to shock (10000 g) allow the MLX91804 to deal with a harsh in-tire environment.

"Monitoring tire pressure is now an essential part of modern vehicle design", states Ivan Zagan, Product Manager for TPMS at Melexis. "Global uptake of TPMS is increasing all the time, driven by international regulations and increasing emphasis on the safety of road users. The attributes shown by the MLX91804 will facilitate the next generation of TPMS deployment in automobiles, as it needs just half the board real estate and delivers 3 times lower sleep mode power consumption figures than ICs from rival vendors. This cutting-edge device will enable more compact solutions with greater functionality and improved energy efficiency, in line with vehicle manufacturers' growing expectations. We are pleased to see a growing interest among major players for this technology", he concludes.