Melexis TPMS winner of the Excellence in Product Design for Automotive at this year's Elektra awards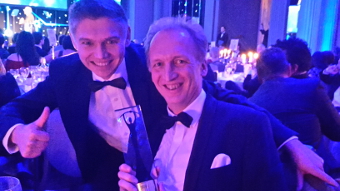 Tessenderlo, Belgium, 7 December 2017
– The Elektra Electronics Industry Awards are the high point of the year for the European electronics industry, where the finest new products, technology innovation and company performances of the year are showcased. An independent panel of judges assesses the quality of all entries and the winners are announced at the Awards Ceremony.
Melexis entered the Excellence in design category with its
MLX91804
, the Tire Pressure Monitoring System (TPMS) integrated circuit. This 3rd generation TPMS IC is 60% smaller and draws three times lower power (in sleep mode) than any competing solution available today. It incorporates a sophisticated microcontroller and an advanced pressure sensing element, as well as energy efficient wireless transceivers for communication with the vehicle.
Monitoring tire pressure is now an essential part of modern vehicle design and global rollout of TPMS is increasing all the time, driven by international regulations and increasing emphasis on the safety of road users.
The attributes shown by the MLX91804 will facilitate the next generation of TPMS deployment in automobiles, as it needs just half the space and delivers 3 times lower sleep mode power consumption figures than competitors. This cutting-edge device will enable more compact solutions with greater functionality and improved energy efficiency, in line with vehicle manufacturers' growing expectations.
Damien Macq, VP Business Unit Sensors commented: "I am extremely excited by this recognition especially because the TPMS project is the result of great teamwork and innovative thinking. We are proud that through the Elektra award for Excellence in Product Design for Automotive we can demonstrate this further."

Inspired Engineering