Melexis announces a 35 W low noise single coil fan and pump driver for industrial and home appliance applications

Adaptive control algorithm ensures best in class acoustic and torque performance
Tessenderlo, Belgium, 8 October 2020 - Melexis, a global microelectronics engineering company, introduces a new single coil fan and pump driver IC with a peak driving capability of 2.2 A. The MLX90412 combines high performance with low noise operation, making it ideal for a wide range of home appliances and industrial applications. Suitable for driving loads of up to 35 W, it complements the previously released MLX90411, adding a high power option to the range.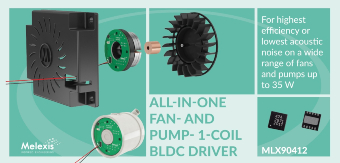 The MLX90412 operates from a supply voltage in the range 3.5 V to 32 V, and is robust up to 40 V. This makes it well-suited for use in equipment on 12 V and 24 V power supplies, as well as for portable applications with up to seven Li-ion cells (~29 V). Home appliance applications include drain pumps for washing machines and dish washers, as well as toilet pumps; fans, blowers and cross blowers in air conditioning units, desk fans and pedestal fans; and Li-ion based applications including robot cleaners and robot lawn mowers.
Multiple motor commutation options can be accommodated to meet the need for high torque and low acoustic noise, as well as low vibration. A patented adaptive control algorithm ensures the highest efficiency is achieved with the lowest reverse current, over the full speed range and independent of the motor inductance or applied lead angle.
Both open loop and closed loop speed control are possible, with a wide range of dynamic (PI) settings, for a speed range up to 45,000 e-rpm (electrical RPM). The closed loop speed control allows the speed tolerance to be reduced to as low as +/- 3%. In combination with the low acoustic noise current shaping, the MLX90412 offers unprecedented noise performance in this price segment, making it a cost-effective alternative to the expensive 3-phase solution in many challenging applications. Furthermore, in pump applications, the closed loop can also be used as no-load or run-dry protection, to help avoid running pumps at excessive speeds, preventing high audible noise, and early failure.
The MLX90412 boasts multiple integrated protection features including locked rotor, over temperature, overvoltage, short circuit and current limiting, as well as built-in supply clamping. Similar to the MLX90411, the MLX90412 is programmable via an I2C interface and all options are configurable in the on-board EEPROM. The MLX90412 is available in a 3mm x 3mm DFN10 package.
---
Downloads