Hall based programmable SOI floating switch
MLX92362
Melexis
The MLX92362 is a revolutionary Hall based floating switch. With Its isolated output, it only requires power to directly drive a load.
MLX92361: pre-programmed
MLX92362: programmable
Read more
Top features
Normal or lateral magnetic sensitivity options X (Y) or Z

Output isolated from the supply voltage (SOI)

OUTA/OUTB potentials can be below GND or above VDD

Built-in daisy-chain functionality to synchronize multiple ICs

Typical RON of 3Ω

Output current up to 100 mA (AMR 200 mA)

Programmable magnetic thresholds and threshold temperature coefficient

Programmable magnetic Latch, Unipolar and Omnipolar Switch function

Operating voltage range from 4.5V to 28V

Operating temperature from -40°C to 150°C

Low average supply current – 180μA typical

Under-Voltage Reset protection

Thermal protection

Package RoHS compliant TSOT-6L
Discover all features
Hall based programmable SOI floating switch -
MLX92362
The MLX92362 is a revolutionary Hall switch providing better assembly yield and reliability in fluid level measurements. With Its isolated floating output, the MLX92361 only requires power to directly drive the load.
The MLX92362 is a monolithic sensor IC sensitive to normal or lateral magnetic field. It has two output pins, OUTA and OUTB, which are connected to an electrically isolated switch.
The MLX92362 can be programmed to output direct or inverted signal from one of the two sensitive axes – X(Y) or Z. The signal available on the output pins is the result of a comparison between the applied magnetic field and the pre-programmed magnetic thresholds BOP and BRP for the selected sensitive axis.
The MLX92362 can be programmed to act as magnetic latch or unipolar switch or omnipolar switch.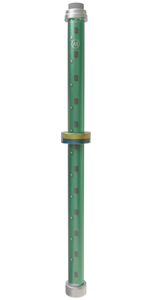 Note that a series of ICs can be connected in a single module, and synchronized via the same 3-wire interface thanks to the built-in daisy-chain function.
For development programming, the EVB92662 is available. For mass-production programming, the MLX92362 is compatible with the PTC-04 (DB-HALL06).
MLX92361: pre-programmed
MLX92362: programmable
Application Examples
Reed switch replacement
Fluid level meter applications
Push button
Direct load driving
HIGH/LOW side switch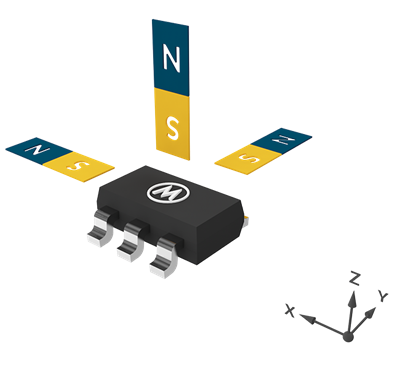 Normal or lateral magnetic sensitivity options X (Y) or Z

Output isolated from the supply voltage (SOI)

OUTA/OUTB potentials can be below GND or above VDD

Built-in daisy-chain functionality to synchronize multiple ICs

Typical RON of 3Ω

Output current up to 100 mA (AMR 200 mA)

Programmable magnetic thresholds and threshold temperature coefficient

Programmable magnetic Latch, Unipolar and Omnipolar Switch function

Operating voltage range from 4.5V to 28V

Operating temperature from -40°C to 150°C

Low average supply current – 180μA typical

Under-Voltage Reset protection

Thermal protection

Package RoHS compliant TSOT-6L
Hall-effect SOI floating switch (MLX92362-MLX92361)
Product
Don't run out of your favorite liquid - sense it's level! The MLX92362 is a revolutionary floating switch: based on Hall-effect and SOI technology, it only requires power to directly drive a load. And more, the MLX92362 benefits from a built-in daisy chain functionality, which enable the synchronization of multiple ICs via the same 3-wire interface! Time to watch the video to discover more.
Magnetic Latch Switch: Experience matters
Product
25+ years in Latch & Switch has given Melexis a unique view of market needs. Decisions taken in 1993 to focus on CMOS technology and TSOT packaging are just as valid today as they were then.
Step-by-step guide to Latch & Switch portfolio
How to
During this video, Thomas Strauven, Applications Engineer for Latch & Switch, guides you through the Melexis selection guide for the Latch & Switch portfolio. This selection guide is a parametric document that allows you to find and compare the specifications and features of our extensive Latch & Switch portfolio.