ELSIL
ELSIL (Electronic Silicon) is a French high-tech company specializing in device programming, marking and taping & reeling. Cumulating 3000m² located on 4 production sites both in France and Tunisia, ELSIL benefits through its past acquisitions from more than 30 years of experience and has built a strong position in this industry, relying on established worldwide industrial partnerships and prestigious customers. Today ELSIL can claim a capacity to program about 80 million units per year.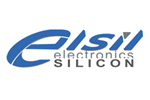 Programming services:
Technology:
NORFlash, NANDFlash, SERIALFlash, eMMC, SDCard, μSDCard, COMPACTFlash, MICRO, CPLD, PLD, FPGA, Prom, Eeprom, GSM, Bluetooth and Wi-Fi modules for IoT, secure devices with certificates & keys for authentication & cryptography, etc.
Package:
WLCSP, QFN, BGA, QFP, TSOP, SSOP, SO, DIL... We can process your devices packaged in Tray, Stick, Tape, etc.
Hardware & Software development:
Relying on a long-standing relationship with Programming Systems Manufacturers allows us to develop your new IC algorithm and socket-board (if needed). We can also help you to build a BBS (Bad Block Scheme) for Bad Block Management of your NANDFlash for instance. We can also develop a new industrial programming interface for your IoT project.
Additional services
Taping & reeling services
Our services are compliant with EIA-481 standard and use PSA or HOT cover tape. Each reel is « Peel Force Tested » before starting the packaging in order to ensure proper operation of your tape feeder. We are providing Axial and Radial Taping & Reeling for through-hole devices as well as Taping & Reeling of chip from wafer.
Carrier Tape Manufacturing
We provide Carrier Tape services for all kinds of packages: standard or exotic ones. We can support you in developing your own tape for connectors, antennas and more generally all mechanical and other ceramics items, enabling you to automate assembly of the main items of your BOM.
Marking services:
We provide Laser, Dot and Label (low and high temperature) marking solutions in order to identify any IC after programming session. In addition, we can also erase any existing laser marking and provide you a "Blank Marking IC" for privacy.
Leads / balls 3D inspection services:
As a step before the final packaging (Tray or Tape), we make a 3D inspection to control leads or balls compliancy. We can also control existing IC marking and orientation as part of our additional services.
Specific services
Baking and Warehousing (short and long)
Dry & Anti-static packing (for moisture sensitive devices, based on J-STD 33B standard)
Packaging transfer (stick to tape / stick to tray, etc.)
Components reworking plus dimensional testing and component sorting
Features
ELSIL is certified ISO 9001 in V2015
Controlled environment in temperature and hygrometry
Secure sites
Controlled internal flows (5S, ERP, ...)
We can store your components virgins in our site, and your components can come from your sites or directly from your suppliers
Contact
Contact: Guillaume Teppe (g.teppe@elsil.fr)
Website: www.elsil.fr