SMH Technologies
FlashRunner 2.0 In-System Programming Solution
SMH Technologies is a global, independent, high-tech company, leader in Silicon Device In-System Programming and related services for the electronic boards manufacturing industry.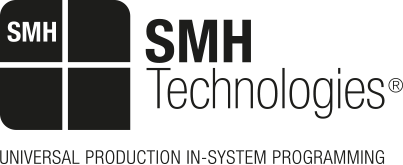 Thanks largely to the continuous investments in the research and development aspect of the business, SMH Technologies has been empowered to create and maintain a technological competitive advantage, which allows the company to keep the status of worldwide leader in ISP technology.
SMH Technologies has a deep culture and knowledge on microcontrollers and its device list counts about 10.000 target supported. SMH Technologies supports several devices and it is available also to develop custom projects dedicated to specific production requirements.
FlashRunner 2.0 applies the most advanced hardware and software technology: the main innovation is represented by a migration from a programming tool to a complete programming system, creating an added value to production lines. This Technology allows to program up to 16 targets (microcontrollers and memories even different each other) in parallel. The new GRAPHIC USER INTERFACE (Workbench) cuts off overall configuration efforts, guiding the customer in creating a working project in few mouse clicks and detecting mismatches between the target device and customer's firmware, as well as power supply setup.
SMH can count on a network of distributors present in the major technological areas worldwide who offer not only advice on products but also technical support to our customers. Please let us know if interested in our solutions and we will put you in touch with our nearest distributor.
Features
The Company
Reliability
Flexibility
Capability
Compactness
Production efficiency