AS electronic GmbH & Co. KG
Custom flashing, pre-programming, trimming or calibrating services for Melexis' products.
Specialising in a small niche is risky. But it is also a key to success. The key to your success!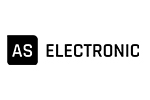 AS electronic, now in its second generation of management, has been focusing on the semiconductor market since 1996. Our team knows the world of sensors inside-out, and is aware of the market dynamics and the requirements and challenges of many different industries. We know what you need and what makes for a perfect solution, because that is exactly at the heart of our expertise and experience.
We offer additional services regarding Melexis' products such as flashing of LIN RGB components, pre-programming or trimming of Melexis Triaxis components as well as calibrating magnetic position or current sensors by a defined magnetic field.
Our capability extends from small pilot series to seven-figure annual throughputs.
Furthermore we are able to calibrate the Melexis PTC-04 Programmer in accordance to factory standards.
Features
Over 20 years experience with MELEXIS products
Component flashing services
Pre programming services
Magnetic calibration
Stimulation with standard and customized actuators
Low initial costs
PTC 04 calibration service