Triaxis® mainstream rotary & linear position sensor (analog/PWM)
MLX90421
Melexis
The MLX90421 reinvents the Triaxis® Magnetic Position Sensor. It provides Analog or PWM output. It distinguishes itself with functional safety, improved EMC, AMR and an extended operating temperature range
Read more
Top features
Supported output modes: analog (ratiometric) or PWM (Pulse Width Modulation)

ISO26262 ASIL-B SEooC (Safety Element out of Context)

Programmable Measurement Range

Programmable Linear Transfer Characteristic with up to 17 points

Operating temperature from -40°C to 160°C

Triaxis® Hall Technology

On Chip Signal Processing for Robust Absolute Position Sensing

Packages, RoHS compliant

SOIC-8 (DC) Single Die

TSSOP-16 (GO) Dual Die (redundancy)

DMP-4 (VS), Single Die PCBless solution

SMP-3 (VE), Single Die PCBless solution

SMP-4 (VD), Dual Die PCBless solution

AEC-Q100 qualified (Grade-0)

ISO26262 ASIL-B SEooC (Safety Element out of Context)

Programmable with the PTC-04 and the PTC04-DB-HALL06 daughterboard
Discover all features
The MLX90421 reinvents the Triaxis® Magnetic Position Sensor. It provides Analog or PWM output.
Intended for use in cost-sensitive automotive applications including powertrain actuators, pedal positioning, fuel level gauges and transmission systems, though also suitable for industrial implementations, these ICs have superior capabilities in terms of functional safety, Absolute Maximum Ratings (AMR) and electromagnetic compliance (EMC) characteristics. They also support heightened temperature operation up to 160 °C
The MLX90421 is pin-to-pin compatible with the previous generations of Triaxis® position sensor ICs
The MLX90421 is a monolithic magnetic position sensor IC. It consists of a Triaxis® Hall magnetic front end, an analog to digital signal conditioner, a DSP for advanced signal processing and a programmable output stage driver.
The MLX90421 is sensitive to the three components of the magnetic flux density applied to the ICs (i.e. Bx, By and Bz). Programming the sensor determines which axes are used to calculate a rotation or linear position. This allows the MLX90421, with the correct magnetic design, to calculate the absolute position of any moving magnet (e.g. rotary position from 0 to 360 Degrees, see Figure 2 - Application Modes). It enables the design of non-contacting position sensors that are frequently required for both automotive and industrial applications.
The MLX90421 provides ratiometric analog or pulse width modulated (PWM) outputs. Programming the sensor, after assembly into the application, increases the accuracy of the system thanks to the multi-point programmable linearization function.
The MLX90421 is compatible with the PTC04 (DB-HALL06) for mass-production programming.
Application Examples
Absolute Rotary Position Sensor
Pedal Position Sensor
Throttle Position Sensor
Ride Height Position Sensor
Transmission Position Sensor
Absolute Linear Position Sensor
Steering Wheel Position Sensor
Float-Level Sensor
Non-Contacting Potentiometer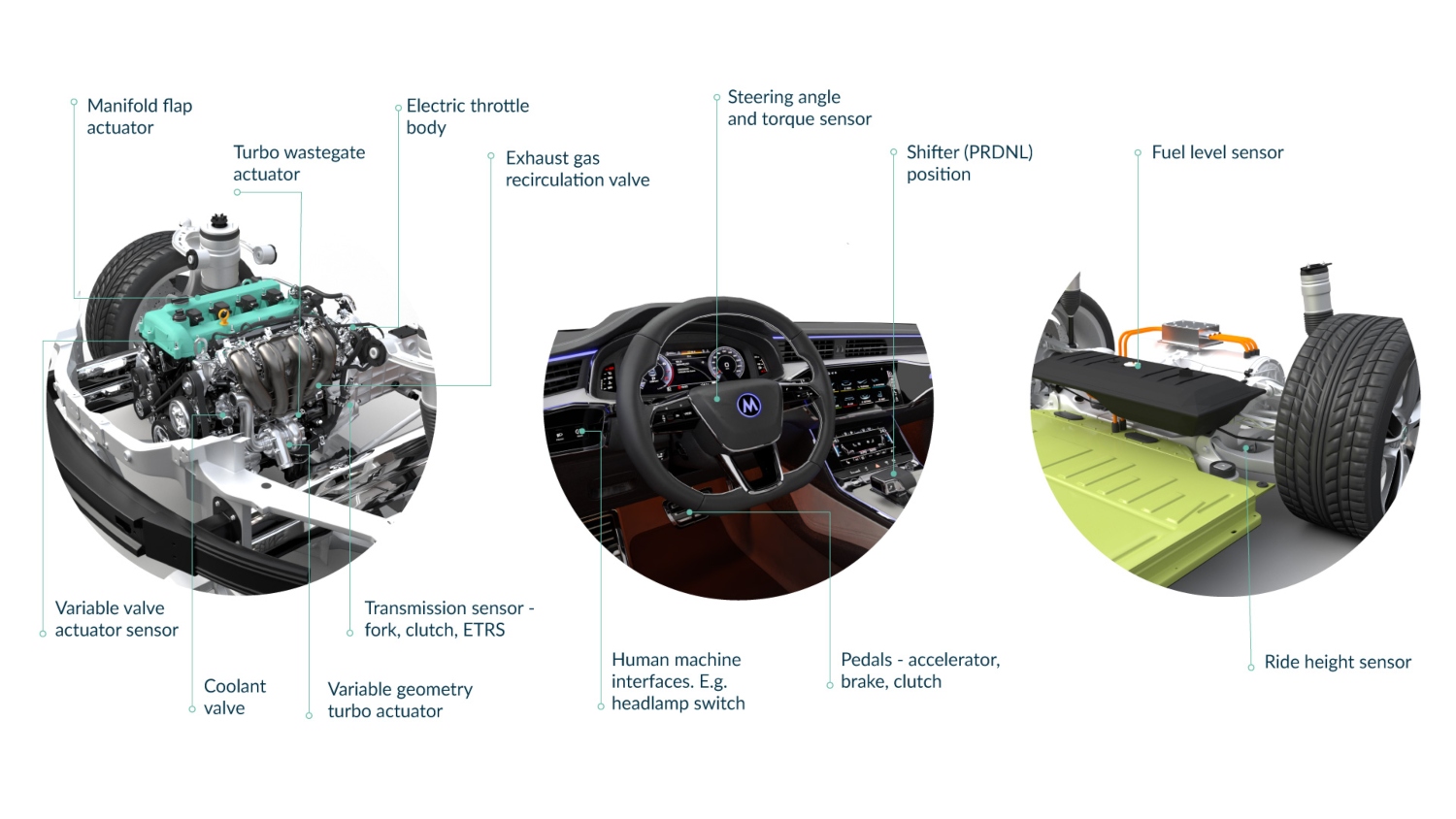 Supported output modes: analog (ratiometric) or PWM (Pulse Width Modulation)

ISO26262 ASIL-B SEooC (Safety Element out of Context)

Programmable Measurement Range

Programmable Linear Transfer Characteristic with up to 17 points

Operating temperature from -40°C to 160°C

Triaxis® Hall Technology

On Chip Signal Processing for Robust Absolute Position Sensing

Packages, RoHS compliant

SOIC-8 (DC) Single Die

TSSOP-16 (GO) Dual Die (redundancy)

DMP-4 (VS), Single Die PCBless solution

SMP-3 (VE), Single Die PCBless solution

SMP-4 (VD), Dual Die PCBless solution

AEC-Q100 qualified (Grade-0)

ISO26262 ASIL-B SEooC (Safety Element out of Context)

Programmable with the PTC-04 and the PTC04-DB-HALL06 daughterboard
Magnetic position sensor ICs MLX90421 & MLX90422
Product
The MLX90421 and MLX90422 reinvent the Triaxis® Magnetic Position Sensor. The MLX90421provides Analog or PWM output while the MLX90422 offers a SENT output. The sensor ICs distinguishes themselves with functional safety, improved EMC, AMR and an extended operating temperature range.
Triaxis®: Unique position sensing solution
Product
Triaxis® is an innovative magnetic sensor technology capable of very precise 3 axis magnetic field measurement from a single sensor. Endless linear, angular and 3D applications e.g. for powertrain (conventional, hybrid & electric), body, comfort & lighting, chassis & safety can be developed.
Melexis universal programmer for magnetic sensors (PTC-04)
How to
In this video, Albert-Jan Knevels (Applications Engineer), gives a detailed introduction to the PTC-04: Melexis universal programmer tool for magnetic sensors. He shows how to install the relevant hardware and gives a demonstration on how to work with the software.
Back-end calibration of magnetic position sensors
How to
This video explains the concept of the back-end calibration: a feature of our magnetic position sensors that allows you to compensate for non-linearity error in your application. Different methods of calibration and examples are presented. This will help you understand how to use the calibration and why you may need it.